Prestashop Login: Fix automatic logout problem
You need login PrestaShop Admin to manage your products, track the orders, change configuration settings...etc. A few seconds after login success, you automatically log out. What's wrong?
I'm sure that your computer is not the cause of this. For some reason, it kicks you out of the session. It's no fun if you need to configure your addons or check order status immediately.
Follow this PrestaShop tutorial to figure it out and get the easiest solution by accessing the database of your Store.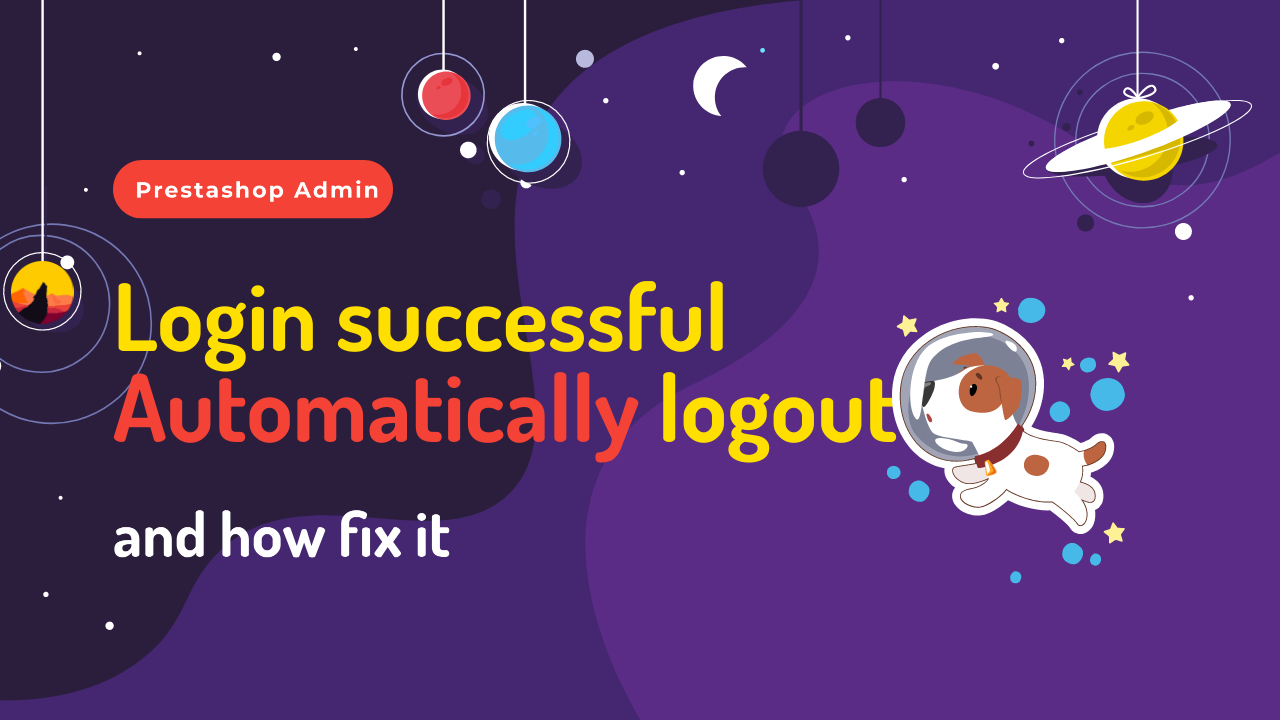 Hi everyone, it's Sarah, PrestaSOO team. As you and many developers out there, I'm developing many online stores as well as PrestaShop Addons & related services for our clients.
But once a day, for an unknown reason, I can not access the Administration Panel.
No, I mean once logged in using my email address and passwd, you automatically log out. That was crazy! I know I'm not the only one face this issue: when I did some research last weekend for solving technical problems related to the Core and Addons, I have seen people complained about it, find an answer for their question, since 2013 until now, from their official forum to Stack Overflow.
So, I can't wait to tell you How to fix PrestaShop logout problem.
How to login PrestaShop admin
First, you need to navigate to your admin folder to access the back office. During the PrestaShop installation process, the location of the admin is renamed. For example: admin123. So, open your browser, type your-website.com/admin123 in the address bar and use the correct login information on the login screen.
Lost password? Here is an option to get a new administrator password for accessing Prestashop admin panel on your Online Store in case your eCommerce site can not send emails (Really? Read my article to discover How to setup Gmail SMTP Settings as one of your third party services instead of mail() function on your hosting provider by default) or can not access your email [email].
Fix Automatic log out problem
Every time you log in PrestaShop Admin Dashboard and select a menu, its always redirect automatically to login page. No matter how many times you try it, it always happens. That's really terrible user experience!
If there is ever a time you don't get kicked out right away, try to disable Check the IP address on the cookie option in Advanced Parameters → Administration → General (version 1.7) or Preferences menu (version 1.6).
Unfortunately, it does not usually work because you will be kicked out Admin Dashboard before doing something. You can not change this value by accessing the source code and find this value using your file manager. So, we have to do this tricky way:
Access your MySQL manager (phpMyadmin, CPanel, etc...)
Run this SQL query: UPDATE ps_configuration SET value = 0 WHERE name='PS_COOKIE_CHECKIP';
In this case, ps_ is my table prefix, you may adapt it to your settings.
This query will update the PS_COOKIE_CHECKIP from value 1 to 0. Now with this Prestashop tutorial you can access your Prestashop Administration Panel page without any problem.
Does this issue happen on a customer account at Front Office?
Leave a comment below and i will find a solution for you.