How to find the list of PrestaShop newsletter subscribers?
PrestaShop has an option that allows customers to subscribe to the newsletter mailing list, and save the list of PrestaShop newsletter subscribers into its database, although this platform does not have a full-featured built-in email marketing function.
If you use other PrestaShop modules for sending newsletter messages, these modules will automatically get email addresses from the database.
But how can you export newsletter subscribers to send them to other services?
Welcome to PrestaSOO. Today I will show you where you should go to find this information for upcoming promotions & marketing campaigns.
How do I get the list of newsletter subscribers?
You can export a CSV file using the data export feature of the Newsletter Subscription module.
Visit your Admin Panel Dashboard → Modules → Newsletter Subscription → Export customers' addresses.

You will get a CVS file for using it to import to another service.
What data is synchronized?
This list includes customers who have agreed to join the mailing list, as well as the visitor who submit the email address from the newsletter block on the Front Office.
So, if you only export the "ps_emailsubscription" table from your database, you have only a list of visitors.
What about sending newsletters to customers?
The newsletter might be a great idea, but that's not the only thing you need to consider. You need to know how it will be sent and who will send it. If you think that sending email newsletters is an easy task, then I'm sorry to break it to you, but you are way off.
You have two options: Using the default module (that you used to perform an export of customer's e-mail addresses) or finding a third-party service, such as HubSpot, SendinBlue, MailChimp or Platform.ly.
Which is better: paid or free newsletters?
You don't have to pay an extra cost for the first option. But it only has a few basic functions such as sending a welcome voucher code and won't be of much help to you.
Using other email marketing software? This allows you to create and send newsletter templates with ease.
But did you know that if you're sending a newsletter, you could also be losing subscribers?
Yes, that's right. Even if you're using the best email marketing software on the market. But if you don't, you won't lose anything as well as won't get any profits.
Every day, millions of newsletters are being sent.
What is your choice?
How to add subscribers to your Mailchimp list
Access your MailChimp account → Audience → Add contacts → Import contacts. Select your CVS file to start the import processing.

You manually have to do these steps, every time you want to submit your database to your Mailchimp list.
It's a boring time I guess.
Is there any PrestaShop addon that can automatically synchronize an email ID to my MailChimp account?
Let's say you have a PrestaShop store with about 100,000 visitors per month. You want them all to be able to subscribe to the same mailing list in Mailchimp and receive emails from you.
The problem is that when visitors subscribe to the online store, you have to repeat the above step every day.
Managing subscriptions can be difficult and time-consuming as well as expensive. To solve this problem, I would recommend running a script that will automatically sync the email after subscription. This will prevent any manual intervention needed on your part for managing subscriptions.
A newsletter module with advanced parameters automatically integrates into your eCommerce platform
The PrestaShop core gives you some basic functions, and the Newsletter Popup Coupon API module saves your day and makes your life easier.
This newsletter popup module automatically generates the unique coupon code based on your cart rules from the module setting to convert visitors into customers and increase the average cart.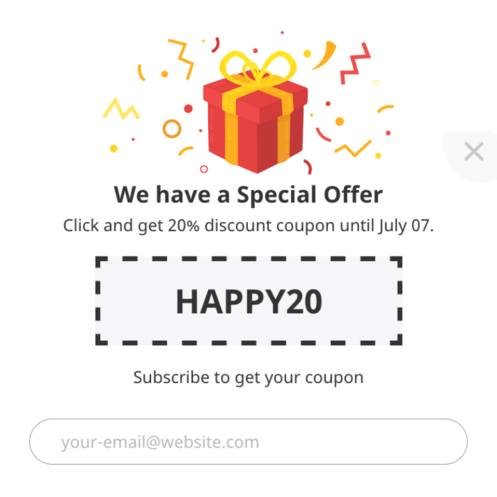 It also automatically adds the registered email address to your database and syncs with your MailChimp audience.
You have an option to configure & integrate with email verification services to verify the email address of clients in real-time from the back office. It's an efficient way to avoid sending a verification email/confirmation email to improve customer satisfaction.
In accordance with applicable laws, it provides a GDPR checkbox option for sharing personal data.
Let's start to create your responsive popups and sync the list of subscribers from PrestaShop to HubSpot, MailChimp, SendinBlue & Platform.ly for sending promotional offers.
Updated: This PrestaShop newsletter module (v3.1.4) supports getting and synchronizing the language of users from the online store to MailChimp & SendinBlue.