Easily delete orders in PrestaShop with a click
You always want to delete the unwanted orders and test order in the PrestaShop admin panel.
Meet DeleteX.
It's a free PrestaShop module that helps you safely delete the default order & test orders. New feature: the latest version of DeleteX provides an option to delete all orders in 1 click as its default functionality!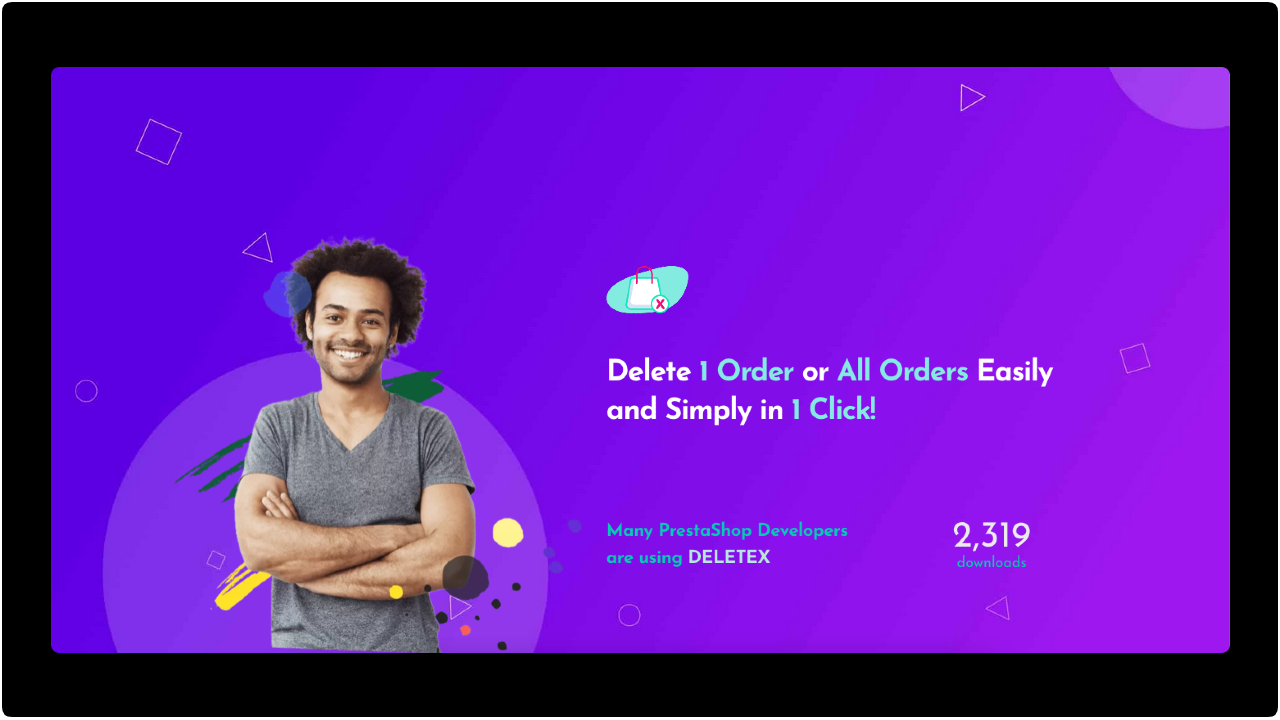 My case: We need to delete test orders
When we did some tests with our Payment module - ChargeMe, we generated many test orders from PrestaShop Back Office. All we need to do is do some tests on our PrestaShop store before going live.
Then we need a clean and clear database for a production environment in your online store.
If you want to try your luck on managing orders on the order manager page, you can access the Orders menu from the left area of the admin back office. It's easy to see the order status, export or see the detail of the selected order, but unable to delete it.
We decided to develop a module to delete any order. We call my PrestaShop Cleaner DeleteX.
You do not need to pay $49 to use a module to delete your order. You can download this Prestashop module for free $9.
This PrestaShop delete orders free module will delete not only the PrestaShop orders table but also the cart product table, order invoice table, and all order details.
This PrestaShop Addon also allows you to remove all orders from your store in seconds.
Why should you use this module for deleting orders?
This one is an effective way to remove duplicate orders or those that are no longer needed.
We make it easy to get rid of unwanted orders by allowing them to be removed in seconds with the Remove All Orders button. Then you might want to push the OK button on the confirmation message box, every crap will be removed in seconds.
How to delete only 1 test order in PrestaShop
We know sometimes you only want to delete 1 order. Type the order ID into the required field on the module's configuration page and click on the Remove button. DeleteX will delete all related information.
This app does not require an API, and works well with any PrestaShop Theme. Just download the installation package file and install it.
Its delete function is available in the default installation, compatible with PrestaShop version 8, PS 1.7, and is easy to use on both laptops or mobile devices, helping you enable remove the data order from your shop just by a mouse click on the delete button.
Can I get deleted things returned with this method?
"Nice. Now I know a way to clean up the crap with this database cleaner. Can I get a deleted returned to me?"
This is a one-way street! There is no way to return a deleted order. This module is very useful for developers to clear the demo data & unnecessary orders, but don't try it on your live website.
Update 02/2023: DeleteX is compatible with the MultiStore feature & PrestaShop 8.
P/s: Recently, we have received a lot of feedback from developers that they do not have time for referrals. So, we provide another way to get DeleteX: You can buy it for only $49 $9.