How to remove Powered by PrestaShop from email templates
Maybe you would like to display there your own message for your customers or remove it for good. On this tutorial, i will show you how to remove it or display your own text.
Email system is very important in eCommerce
As you know, emails are one of the most trusted methods that online marketers rely upon for crunching big numbers in sales. You can use it to send the order information, send the voucher in a Prestashop advance discount rules module or Prestashop Newsletter module... for Great ROI, more Conversions, improve Loyalty.
So i wrote Prestashop smtp settings is easy, a Prestashop tutorial to show you a simple way to setup your Prestashop SMTP settings using Gmail, Zoho or Mailgun...
Step by Step to remove Powered by Prestashop from email templates
Default emails are sent to a customer after (s)he creates an account on the website, subscribes to a newsletter, makes a purchase, in case of payment received, confirmation that the order has been shipped and some other cases.
Step I - Edit default Prestashop email template
To edit Prestashop email template version 1.7, just log in and navigate in Improve section to: International => Translations
Select the following positions in drop-down menus and click Modify button:
Type of translation: Email Translations.
Select the type of email content: Body.
Select your theme: Core (no theme selected).
Select your language: Choose the required language (in our case it's English).
Step II - Edit Installed modules translations
You also want to edit the Installed modules translations to change text and remove the "Powered by Prestashop" option. In Prestashop 1.6, you need to edit Module email template and Core email template. For example, click 'Core Emails' to open and select 'order_conf' from the list in order to edit the Order Confirmation Email.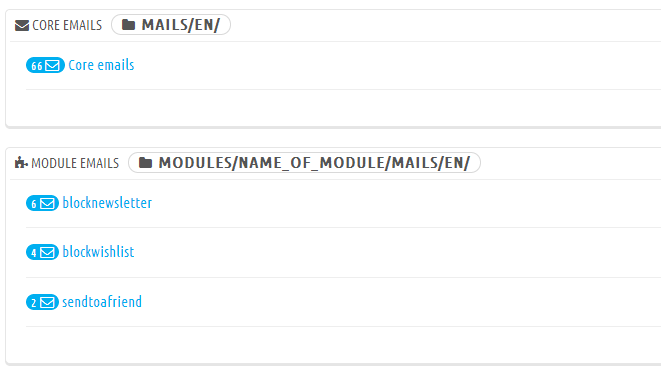 Final, remove the text and type in anything that you would like to add to the template. Make sure you edit both the HTML version and the Text version for any Prestashop email templates.
Last but not least, if you find a solution for branding your PrestaShop document, DocumenThemix is the best choice!